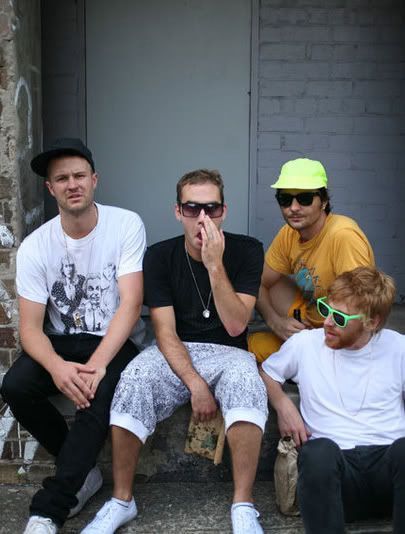 Jamie Doom, DJ Damage, Ajax & Gus Da Hoodrat
This Thursday the UK will see the return of Ajax, Gus Da Hoodrat and Jamie Doom, three prominent members of the Sydney Dj collective: The Bang Gang. They are over here promoting the recent LSD (Light Sound Dance) mix cd out on Modular records with an extensive euro tour. Thursday they will be blowing the minds of the geordie's in Newcastle and Friday they are hosting a room with Modular at Fabric with Para One, Busy P, Surkin, Walter Meego and The Glimmers which, will be awesome!
I first saw these guys when I was living in Sydney in '05 and they knew how to party. With their eclectic sound of beats, breaks and electro housed in Club 77 (one of the dirtiest clubs I have ever seen), it drew in the gay/straight fashion crowds of Sydney and beyond so much so that the queue would start way before the club even opened.
After hosting weekly Friday night parties at Moulin Rouge then Club 77 and playing almost every promo party in between, they took a break and played monthly at Honky Tonks (now Third Class) in Melbourne.
Now they seem defiant on bringing their sound to a wider audience and have already toured the US, UK and Europe supporting the likes of the Klaxons and Daft Punk at this summers UK festivals.
Try and catch them if you can for a taste of the Aussie dance scene. After all, Ajax has been voted Australia's No.1 dj in '06 along with a host of other accolades.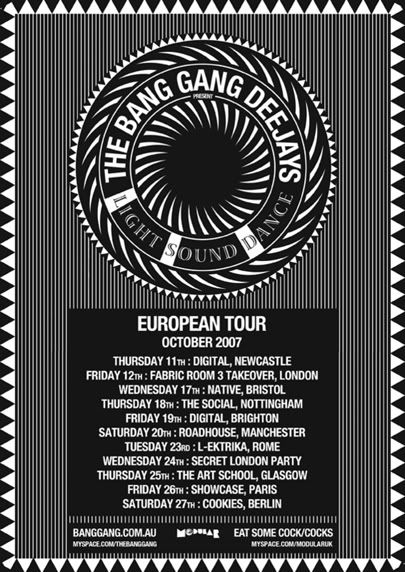 Also, check out their
podcasts here
.
Bang Gang Myspace
Ajax Website
Modular Website