Durrr (formerly Trash) have just posted a bulletin about monday night's lineup which includes a special guest:
"Ok I am allowed to hint at the live act because their other show is sold out now...they are old friends (played Trash) and their name begins with S."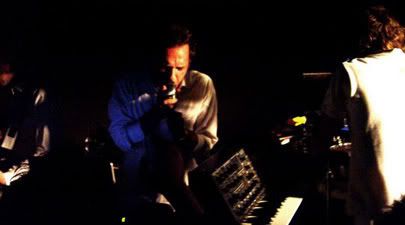 Soulwax Nite Versions @Trash 26th September 2005
pic:Heike Schneider-Matzigkeit
Using the power of deduction, my guess is that the guest is Soulwax since their other 'London' show is sold out 3 days later, as well a good few of their other UK performances.
Oct 25 Festival, Brighton
(Tickets Available)
Oct 26 Ambassador, Dublin
(Sold Out)
Oct 27 Warehouse Project, Manchester
(Sold Out)
Oct 28 University, Leeds
(Tickets Available)
Oct 29 Durrr @The End, London ??????
Oct 31 Academy, Glasgow
(Sold Out)
Nov 1 Koko, London
(Sold Out)
Nov 2 Nation, Liverpool
(Tickets Available)
Nov 3 Secret Location, Newcastle
(Tickets Available)
Guess all we can do is go to find out. I know I will be. Digitalism
last time
was amazing! Any other suggestions of who it could be are welcome.
Durrr Myspace
Soulwax Myspace