Well it looks like my count down to the weekend will be sorted for this week, involving every night in the process.
Firstly, as I mentioned
before
, Daydream Network are launching their creative design magazine via the means of sound tonight. They have been asking for new and unknown music creative's to send in their tunes which will in turn be played by the dj's on rotation throughout the night. Check out their myspace for details:
Daydream Network Myspace
WEDNESDAY: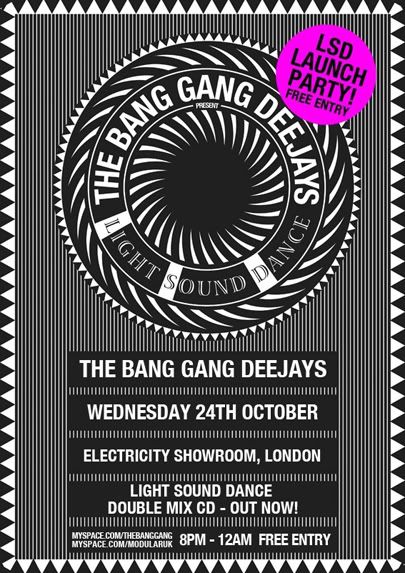 Wednesday see's the return of Sydney's
Bang Gang
to Shoreditch where they are playing a (not so) secret launch party at the Electricity Showroom, Hoxton Square for their new mix compilation L.S.D (Light Sound Dance) out now on Modular.
If you missed them the other week at Fabric you've got tonight and Sunday nights 'Doombox' Halloween showdown at
Boombox
before they jet off on the rest of their promo tour and back to Australia.
I highly recommend you catch them at either.
Modular have just sent out this link for the event:
Click here to RSVP
.
(RSVP does not guarantee entry you will still need to arrive early as we expect this event to be busy)
Bang Gang Myspace
THURSDAY: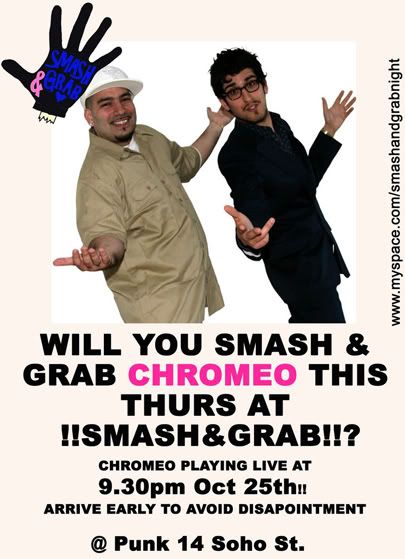 London's Queen's of Noize; Tabitha & Mairead have just announced that the legendary Canadians Chromeo are playing on Thursday at their weekly knees-up Smash & Grab. Take their advice and get down early, this is going to rock!
Smash & Grab Myspace
Chromeo Myspace
FRIDAY: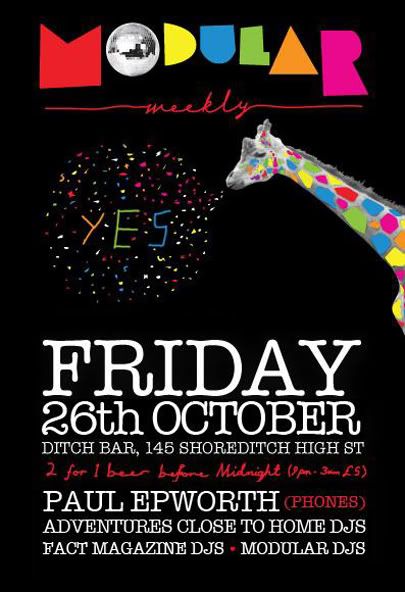 And for Friday, better get your dancing shoes reheeled after dancing all night to Chromeo because you're gonna need them for tonights return of Paul 'Phones' Epworth to the decks at Modular Weekly.
Modular Myspace
Phones/ Paul Epworth Myspace
Jeese, you might just need the weekend to recover!