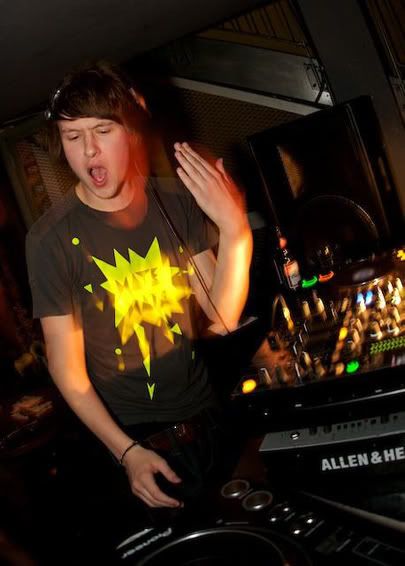 Andy George is 1 1/4th of Lincoln party collective Moda. The monthly club night at The Cell in Lincoln is one of the UK's hottest events and in just over one year has played host to the likes of Switch, Annie Mac, DJ Touche, Kissy Sell Out, Yousef and Tom Neville to name a few. George has just got his debut release "Big Dipper" signed and due for release in January and it has already been picked up for remixing by
HiJack
and
Hostage
.
How long have you been running Moda?
For over a year now!
Is it just yourself or are you a collective?
There's in fact 4 of us including Me -
Jaymo
,
Ben Atkins (Benni Cassette)
and
Ingo Staar
.
Was Moda the start or have you organised nights before?
We'd all promoted various other events but wanted to create something special with Moda, and i think we did!
Do you have a residency elsewhere or play at any other events?
I try and DJ as much as possible (I work in TV production) and produce in whatever time I have left, but will be picking up the pace in the next year! Played all over the country! More recently at places like
Micky Slims
night "If" in Birmingham.
You've recently had Crookers and Bryan Cox come and play Moda, who else have you had play at previous events?
I've played with the likes of Switch, Annie Mac, DJ Touche, Kissy Sell Out, The Mystery Jets, Tom Neville
Is there anyone you'd like to invite to play future events?
So many people! Lined up for '08 are people like Sinden, Annie's coming back, Joshua Harvey and Hijack!
How long have you been Djing?
Since I was 15! But with CDJs/Ableton only 2 or so years!
Are there any bands or acts that you draw any inspiration from?
Lots, I love a mix of Hip Hop in house music, Sinden's a wicked party DJ, obviously Daft Punk are a huge part of my musical love and then bands like Devils Gun (I'm working with Jagga from Devils Gun on my next track which will see me under a new alias!)
How long have you been producing?
Probably only about 8months!
Do you remix other artists' tracks?
I'm going to be remixing another Moda resident Benni Cassette, he's not only one of my best friends but is churning out some really cool stuf - check out his myspace!!
Where will you be playing over the next few weeks?
You can catch me at Mystic Disco @ On Anon, London next Thursday
The London Union Party @ FABRIC with Bloc Party, Pendulum and Eric Prydz then Moda with Boy 8-Bit & Zombie Disco Squad and Boxing Day & NYE at The Cell in Lincoln (my current residency!)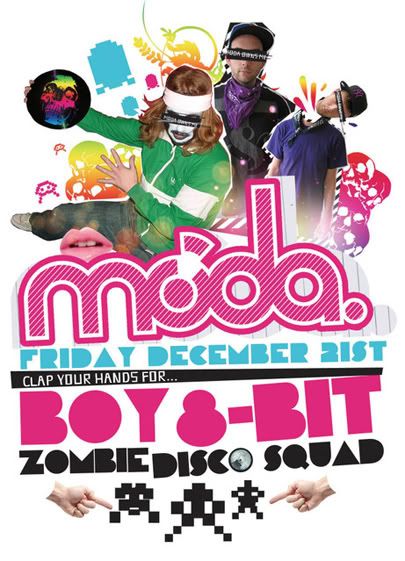 Checkout his new Mixtape for November:
1. Boy-8-Bit - The Suspense Is Killing Me (Mad Decent)
2. Digital Primate - I Ain't Wid It (Acid Jacks Remix) (CDR)
3. Lethal Bizzle - Selfridges Girl (Boy-8-Bit Remix) (V2)
4. Nifty - Nifty (Original Remix) (Atlantic Jaxx)
5. Nifty - Johnny's Not Dead (Atlantic Jaxx)
6. Foamo - Moving It Over Here (CDR)
7. MarTelo - Kryptonite Grinder (Sinden & Trevor Loveys) (CDR)
8. Winona - Without You (Dead Soul Brothers Remix) (CDR)
9. Peter Bjorn & John - Young Folks (Phones Problem Child Remix) (
10. Kenton Slash Demon - Pretty Rich (Hijack Remix)
11. Andy George - Big Dipper (Hijack Remix) (Wearhouse Music)
12. Se:Sa - I Like It (Sinden & Count of Monte Cristal Remix) (Positiva)
13. Bonde Do Role - Gasolina (Fake Blood Remix)
14. Justice feat. Uffie - Party (LA Riots Remix)
15. Utah Sains Vs Van She Tech - Something Good (CDR)
16. Nightcrawlers - Push The Feeling On (JakZ Remix) (CDR)
17. Remi Nicole - Rock N Roll (Lee Mortimer Remix)
18. Crookers - Love To Edit
19. KinK - Bad Man (The Bulgarians Sneaky Edit)
20. Scott Cooper - Mad Run (Original Mix) (Wherehouse Music)
21. Detboi - Hold Up (CDR)
Andy George: November Mixtape.mp3
(zshare)
Andy George Myspace
Moda Myspace
Moda Website