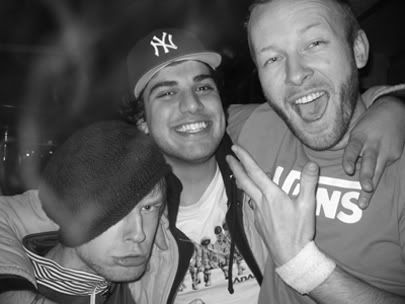 In Norway, the word 'Skurk' translates as 'Crook' or 'Villain'. It is also the name shared by a trio of Dj's, producers and all round party starters that hail from that same county who make fresh remixes and mix Hip-Hop/New Wave/Electro together, tighter than R-Kelly's last girlfriend.
So who are the members in Skurk and what is it?
"Skurk" is a party in Trondheim, Norway (small city, 150k) at a place called Brukbar/Supa, with three resident DJs:
Ninjasheriff
,
Ali Soulishhh
and myself
Chmmr
. So it's kind of a DJ trio as well, even though we seldom DJ three at a time, as it is a two-store party, were Ali takes one floor by himself.
Can you explain what is the difference between Skurk and Rainbow Power?
The Skurk name is used for specific tracks and remixes (the ones that we feel that apply to the name) by me and Ninjasheriff, both individually and when we make music together. I'm starting to realize maybe we shouldve come up with more names...this is getting complicated. Rainbow Power is just our blog (suprised we didn't call that Skurk as well), and i guess also a mixtape we gave away in May. The blog is basicly just a musical and personal outlet, not trying to beat Discobelle or anything. We should be writing more posts in English, though!
How long have you been together?
We have been running for 2 1/2 years now
What do you guys play?
All of us started out playing mostly hiphop, but now we've moved a little more uptempo...or actually, we just play very varied, like everyone else in Norway these days, or even maybe more. We sometimes move the concept a little round the country, but not often.
Do any of you have a residencies elsewhere or play at any other events?
We don't have any other residencies as Skurk. Individually we have some small ones here and there, and we do some gigs and warmups for bigger names from time to time.
Do you feature any guest djs/artists at your events?
Even though we try to emphasize the fact we are DJs rather than partyfixers, we still book other DJs now and then just for the sake of the party. Like for instance last week we had DJ Sujinho from Nossa.
How long have you guys been djing?
Summed up i'd say we have about 17 years of DJ experience
How long have you been producing?
I've been producing for about 10 years, Ninjasheriff about 3 years.
Do you produce original material as well as remix other artists' tracks?
As with DJing both Ninjasheriff and I started out doing hiphop, but nowadays I like doing everything - I love that feeling of having "broke the code" for another genre, and maybe sometimes creating somewhat of a new sound in the process. That's more important to us than having a signature sound, although lately i've fallen in love with more jacked house, like with the Charly remix, which I did. Ninjasheriff is more into making disco, although I think he has the same attitude towards music-making. I still make original tracks, but I'm more into remixing simply because i got tired of making komps that i never got anyone to join in on. It's about meeting that same musically minded person...I'd really like to meet a good soul vocalist...the ones in our city won't do. And more rappers.
Are there any bands or acts that you draw any inspiration from?
I asked the others what they would say here, and it went like this: Ninjasheriff: U-Tern, J-Star, Mr.Mixx, Diplo, Tittsworth, DJ Eleven, Paul Devro. For myself I agree with about half of these, and would like to add MJ (period), M.I.A., DJ Tameil, DJ Laz, uh...20 Fingers(?), Outhere Brothers, Mr. Oizo, Busta, Snoop, Sa-Ra Creative Partners. The Prodigy and Chick Corea. Ali adds Prince and Montell Jordan, which is the REAL truth.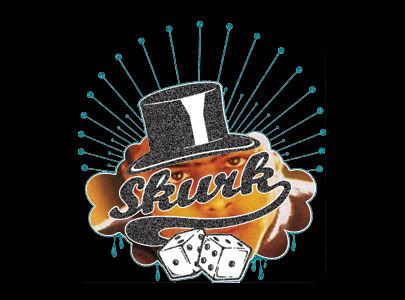 Check out the Rainbow Power mixtape by Chmmr & Ninjasheriff from back in May this year:
Part 1 - CHMMR
whodini - one love + three six mafia - side 2 side
rich boy - throw some d's (chmmr remix)
michael sembello - maniac
madonna - over & over
starship - we built this city
cupid - cupid shuffle (remix feat. dj unk & fabo)
outkast - the way you move
mc fresh c - my brougham
the pack - candy
cabal f. dg & mr. bomba - cabana
mekon - yes yes y'all (sinden baile funk remix)
mc novinha - beijoquinha
chmmr - faen meg ubegrensa
technotronic - get up (before the night is over)
mc sar & the real mccoy ft. sunday - que pasa
wizdom-n-motion - head to toe (doggy style mix)
stevie v - dirty cash
yo majesty - club action (chris bagraiders sailing to baltimore edit)
justice - d.a.n.c.e. (tittsworth remix)
Part 2 - Ninjasheriff:
u-tern - pop lock
the doors - peacefrog (roctakon remix)
armand van helden - this aint hollywood
stereotyp feat. edu k - jece valadao
dj sany - i feel good (james brown carioca funk remix)
os carrascos - vem nenem pro labrinto
loot vs. nwa - something to mash 2
ginuwine - pony (booty bass remix)
solid groove & sinden - overbooked
Rainbow Power Part.1 - Chmmr.mp3
(zshare)
Rainbow Power Part.2 - Ninjasheriff.mp3
(zshare)
Artwork Link
Also, some bonus remixes for your ears:
20 Fingers feat. Roula - Short Dick Man (Skurk Kinakukk Remix).mp3
(zshare)
Bbq Band - Starlette (Chmmr Juri Reprise).mp3
(zshare)
Chmmr - Faen Meg Ubegrensa.mp3
(zshare)
Ninjasheriff - Bump It.mp3
(zshare)
Spank Rock - Back Yard Betty (Skurk Remix).mp3
(zshare)
Prodigy - Charly (Skurk Charly Sez Jack Remix).mp3
(zshare)
Big Tymers - Get Your Roll On (Skurks Git Yo Kneck On Remix).mp3
(zshare)
Booty Girlz - Freak Me (Chmmr Remix Kort).mp3
(zshare)
Tlc - No Scrubs Chmmmr Remmmix.mp3
(zshare)
Skurk Myspace
Rainbow Power Blog