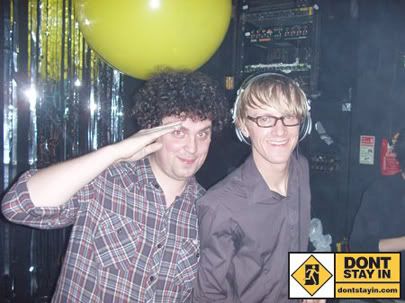 Sorry for the late post, its taken a while for me to pull myself together after an amazing NYE at Together, Turnmills with Simian Mobile Disco, Mylo, 2 Many Dj's, Streetlife Dj's and Unkle Buck.
SMD held the decks for midnight and blew the place apart, Mylo played quite a random record selection but it was still pumping despite some dodgy laptop looping and mixing, and for those of us who lasted until 6am, we still had to wait 45 minutes for a delayed 2 Many Dj's set. But it was worth the wait.
Elsewhere, Streetlife Dj's hosted a room and played a blinding set, also in the room were Uncle Buck who were just as rocking.
Well after 10 hours of dancing theres still a few tracks spinning around my head. Here are a couple that got plenty of airplay:
Alter Ego: Why Not?!.mp3
zshare
LCD Soundsystem : Get Innocuous (Soulwax Remix).mp3
zshare
Dusty Kid: The Cat (Original Mix).mp3
zshare
Justice: Phantom Pt.II (Soulwax Remix).mp3
zshare
K.I.M.: System Breakdown
And some choice cuts played by Mylo:
Pixies: Debaser
Eric Clapton: Cocaine (Remix?)
Now, I'm calling upon your help for this one, I first heard this track played by Kavinsky on a recording of his set with Mehdi and A-Trak on the Fools Gold tour.
2 Many Dj's played it as one of their starting records the other night and I' have no idea who or what it is.
I've snipped a clip from Kavinsky's slightly dodgy mixing for you to hear. It's the track between Sebastian: Greel and Daft Punk: Crescendolls.
Feedback will be greatly appreciated.
UPDATE:
The track is: Anglo Satellite - Big Black Spider (Les Petits Pilous Remix)
Anyway, here's to 2007 and all that waits in 2008!