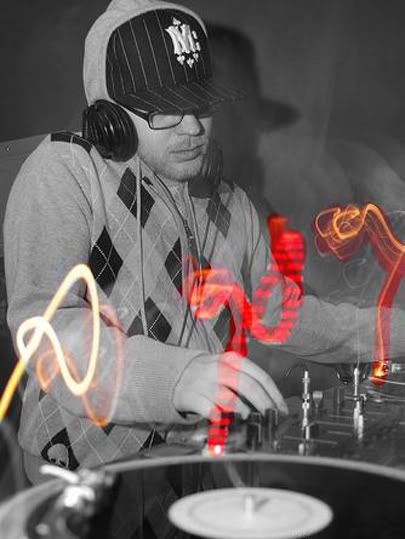 Zeabphotos
From Jungle to Juke, DJ Zebo has played it all. As founder of Irie Records he was one of the pioneer DJ's of the mid 1990's to hold Jungle and Rave parties in Chicago and produce and release records within the genre. Since then he's still got his passion for Jungle but has moved into bmore and house, producing brilliant club bootlegs as well as sharing the stage with the likes of Mixmaster Mike, Grandmaster Flash, Flosstradamus, Tittsworth, DJ Ayres, and Para One to name a few.
How long have you been DJing and what brought about your interest in it?
I started DJing back in 1998. I got into it when I started going to "Rave" parties in 1996. My boy Ben Derekson (Curtis Chip of Zod Records) gave me a tape of him and his brother doing a live pa. At that time I had no idea what a live pa was. They did a set of acid techno and I heard it and was hooked. A few weeks later they brought me to my first party and as soon as I saw the DJ mixing, I knew that is what I wanted to do.
In 1998 I moved to Chicago for school and bought my first pair of turntables and a shitty Gemini mixer. I started hitting up Gramaphone Records every week and was building my collection. At that time I primarily spun Jungle and House.
Do you have a residency or play at regular events?
Currently I hold 3 weekly residencies. On Thursdays nights I do a party called BFF with my girl Heather Doble. The club is called Berlin and it is a 4am spot with a great vibe. It is the type of place where people just go and dance and do not give a fuck. We have guests every once and a while and just hosted the Kleavage tour (
Klever
&
Tittsworth
) there a few weeks ago.
On Friday nights I have a party called "The Booty Up" at a venue called The EvilOlive in the wicker park neighborhood. This is also a 4am bar and the music I play with my other resident, Pr3-Frosh is very eclectic.
Saturday nights I have a party called "No Mas Tequila" that I throw at Sub T which is also in the wicker park neighborhood. This is a 3am spot and I bring in different weekly guests. We get a good crowd every week and we also keep the music diverse focusing on dance music.
Monthly residencies: I throw a party on the 2nd Wednesday of the month at a venue called Moonshine. The residents are myself, Marco Morales, Local Hero, and DJ Trew. This is also very eclectic.
I play once a month at Funky Buddha Lounge for a party called "Outdanced" that is thrown by one of Chicago's top promoters, Avant Trill.
I play a once a month slot at a party called Syndicate at Debonair Social Club. The music is more of the hipster electro, bmore, dance classics.
Bi-Monthly residency: I throw a party called "When in doubt... Juke it out" which showcases Juke music which is a dance genre that is native to Chicago. The genre is kept pretty much on the south and west side of the city so I do my party at SmartBar (Voted #1 club in the US at the Miami Winter Music Conference last year) which is on the northside. My goal is to expose the music to a new demographic and also have a spot for these juke DJs' / producers to play that is different from their usual places.
I also do random events here and there. I am very passionate about DJing and spreading good music.
Could you explain briefly what Juke music sounds like and give an example track that sums up the sound of the genre?
Juke is a genre born out of the Southside of Chicago. Primarily held at parties in the south and even west side of the city. There is a specific type of dancing that goes along with juke and it is referred to as "footwork" which involves quick movement of the feet. Juke has been gaining popularity outside of the "southside Chicago" niche over the past years as people from all over the US and the world are learning more about the music. Certain message boards have helped push this along with their members being djs and music collectors who share their knowledge of the genre. The internet has made it possible for people in these other areas to hear songs and even full out sets from djs and producers alike.
Juke is a style of dance music that is faster than the typical "house" music that you hear so much in Chicago. Juke is around 140-160 bpm which is why footwork looks so fast and erratic. With Juke there is also "Ghetto House" or "Booty", "Ghetto-Tech", "Miami Bass", "Baltimore Club," and I'm sure a few more that I am forgetting.
There is a hip hop group from Chicago called "Dude N Nem" who have a hit single called "Watch My Feet." The chorus of the song goes from rap into Juke and you will notice that the speed (or bpm) doubles. This track is getting airplay all over the U.S. and the video is played on B.E.T. and MTV. Because of this song, Juke will be brought to a much wider audience that may not have had any idea about the music. Now you are seeing it in even more tracks. Twista's "Pimp Like Me" and Kid Sister's "Pro Nails" to name a few.
I don't have a track off-hand that can sum up the genre, but here is a video that has a track by Dj Slugo (Who I just had out at my last juke event last weekend) and it shows many different people doing "footwork" and a bangin' Juke track in it:
Chicago Juke (Dj Slugo)
Which DJ/acts have you played alongside at previous events?
Some of the more notable acts that I have played with: Mixmaster Mike, Grandmaster Flash, Kool Herc, Q-bert, Klever, Flosstradamus, Tittsworth, The Easystar Allstars, DJ Mel, DJ Ayres, DJ Godfather, DJ Gant-Man, DJ Funk, Riot in Belgium, Para One, Surkin, Orgasmic, Devlin & Darko (Spankrock Djs) and many others.
Is a majority of the material you produce remixes of other peoples music or do you prefer original tracks?
I am a sample based producer so I prefer remixing tracks. I also like to use samples that people may not recognize and make something new with it. Someday I will get into composing, but for right now I am happy with using samples.
You started off playing ragga jungle, founded Irie Way Records and produced many tracks within that genre, when did you decide to change your music and producing style and why?
I will always have serious love for jungle. It is one of the greatest dance genres ever made. It has a lot to do with what I am doing today. Now I am referring to true jungle music from the 93-97 era. Once it got into that techy /DnB sound... it lost my interest. I prefer chopped and looped drum breaks as opposed to that of a drum machine. If you look at old jungle and bmore you find a lot of similarities. Even the breaks themselves. The think break and the hotpants break were both big in jungle and are big in bmore.
I started losing my passion for throwing jungle parties in Chicago as I felt it wasn't truly appreciated. It was also getting annoying to play sets and just have people watch you DJ and not dance. You get a lot of the "chin scratcher" crowd with jungle. The people are really feelin' it, but they just don't really dance too much. My boy Autobot (Flosstradamus) came to me and played me some bmore. From that point on I was hooked. It had all of the drum breaks that I loved with jungle, but at a slower speed and fun samples mixed in and was VERY dance friendly. I started playing it out and people in Chicago went nuts for the stuff! It made DJing a lot more fun.... like when I had just started out.
You've recently produced your first release "We Likes" on a joint EP with
Bird Peterson
and Abducted. Are you planning more release colaborations in the future?
Definitely... we have been slacking a little bit, but we are compiling tracks for SES002 and have a couple of big names contributing tunes on top of myself and Bird Peterson. It is going to be an amazing release! I am also planning a possible new label with my boy Marco Morales from here in Chicago. It will have the bmore flavor with a twist.
Are there any bands or acts that you draw any inspiration from?
It is hard to say whom in particular, but I draw inspiration from anything and everything. If it makes people dance, then it is all good in my book. My main inspiration for DJing/ producing bmore would have to be
Tittsworth
. I brought him out to dj about a year and a half ago and was amazed at his skill and consistency. His style of djing was my main inspiration for my style of Bmore djing. The man is a machine... if you have not had the pleasure of seeing him DJ then you are missing out!
What was your highlight of 2007?
I would have to say it was my first Juke party at SmartBar that was in August. We had Dj Gant-man, Dj Nehpets, and Dj Godfather on the line-up. We had about 450 people come through and they juked their asses off until 4am and wanted more. The party had such a great energy and vibe to it. It made me feel as if I accomplished my goal of spreading the sound.
What are your plans for 2008?
Keep grindin' and pushing the sound of the music that I love. I have decided to start djing in other cities than Chicago which I have always strayed away from because of my residencies. I figure it is time to spread my wings.
Zeabphotos
Heres his recent 'My Style is Furious' mixtape.
Chromeo - Fancy Footwork
Lake & Leger - Aqualight
Mr. Oizo - Patrick 122
Sombionx feat. Sara Bunny - I Like House Music
Diplo - Touch It Remix
Zebo - Southside Refix
The Martin Brothers - Stoopit
DJ Blaqstarr - Shake It To The Ground
Mr. Oizo - Ted Kavinsky
Dances With White Girls - Push The Feeling Remix
Claude VonStroke & Galen - Jam On It (Disco Kryptonite Remix)
Debbie Deb - When I hear Music
Tittsworth - Poison Remix
Hakan Lidbo - Walk Away (Todd Edwards Remix)
Ellen Allien & Apparat - Turbo Dreams (Marc Houle Remix)
Majik Johnsonn - Scanning For Viruses (Claude VonStroke Mix)
Switch - Get On Downz
Junior Senior - Move Your Feet (Kurtis Mantronik Club Mix)
DJ Zebo - My Style is Furious.mp3
zshare
Also, check out these bonus tracks:
Young Static - Catch a Wave (Zebo's Juke Refix).mp3
zshare
Zebo - Thick Girls Bunee.mp3
zshare
And if you love your Disco make sure you listen to his mixtape posted over at
Fully Fitted
Dj Zebo Myspace
Dj Zebo Website