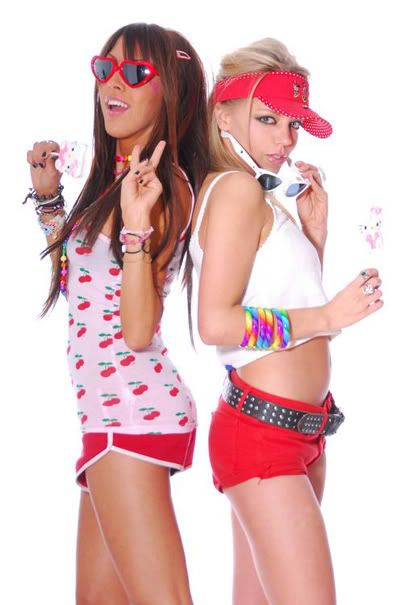 DJ Shoddy & DJ Loli
If you bumped into these two in a club you might think they'd just be suitable eye candy for the likes of
Last Nights Party
or
DirtyDirtyDancing
, but there's more to these girls than meets the eye. DJ Loli and DJ Shoddy are better known as The Riot Dolls and have already made a name for themselves tearing up clubs in the U.S., both as a group and independently. Loli has toured with the likes of Tommy Lee, is currently touring
Indonesia and as the Riot Dolls, the girls are already plotting a World tour domination. World beware.
So how did you two meet?
Shoddy
- We basically met on the internet. My friend sent me Loli's website with the email title "COMPETITION". I actually found Loli to be very interesting and wanted to work with her rather then compete with her in Los Angeles.
Loli -
I loved her (Shoddy's) energy and knew we can do something amazing together!
What brought about your interest in Djing?
Loli
- Ive been around music since 7 years old, starting with playing piano, Singing in a Kids Band, Been a TV host and Journalist for music MTV esque channels and ending up becoming a Dj and performing around the world! You cant beat the amazing feeling of thousands of people bouncing up and down with their hand in the air to your music!
Shoddy
- Djing allows me to express myself. I am an artist so any way I can express myself, whether through music, art or writing satisfies my hunger to grow and develop as a person.
Can you name a record which first brought about your interest in dance music?
Shoddy
- Daft Punk: Homework 97': When I heard around the world. I lost it.
Loli -
That is funny, yep, that would be "Around The World" by Daft Punk. I was walking around the school in doing The Robot from the video at that time.
Other than Djing, are you working on any other music projects?
Shoddy
- Yes producing some remixes and unique tracks. We are also working on touring with a female vocalist.
Loli -
I'm working on producing the Loliland Album and we will soon be working on The Riot Dolls Original first release as well.
Are there any bands, artists or Djs that you draw inspiration from?
Shoddy
- There are too many to name all, but currently, I draw a lot of my mixing/performing inspiration from Danny Tenaglia, and musical influences from bands such as, Daft Punk, Health, The Klaxons, Boyz Noise, Simian Mobile Disco. I cant get Health out of my ipod recently, their production is impeccable.
Loli -
As it goes for the music My inspiration is me. Everything I see, Hear, everywhere I travel inspires me in different ways and influences on the future creations.
Who would you most like to work with on a track and why?
Shoddy
- Daft Punk. Why? Because they are DAFT PUNK!
Loli -
That of course and also would have to be Peaches and Madonna. Amazing voices and ideas.
Do you play any regular residencies or organise club nights?
Loli -
I do a Monthly Residency At Hollywood's AVALON Nightclub, Spider After dark, I also did a residency at Nikki Beach in Los Cabos. And currently working on a few new residencies around LA which would be announced very soon.
In an industry predominately dominated by men do you feel you are treated differently at all?
Shoddy
- Of course. It's like a double-sided blade. You can use it to your advantage or you can let it bring you down. I'd like to think I'm just like one of the boys and can hang with the finest. It's all about what you bring to the table. You can walk into a room and men are going to assume you suck, but you make the crowd dance all night, and they will give you a high five at the end of the night. Its all about RESPECT and holding your own.
Loli -
The world has not become an equal point of men and women yet, so I would have to say yes. But I don't try too hard to prove my point. When people see the talent they accept it.
You're both originally from outside LA, how does the nightlife compare to other cities?
Shoddy
- Nightlife here is nightlife. I think in the US there is a set standard with the nightlife, as soon as you leave the states, thats when you can really compare parties and cities. 2am/4am? Around the world this is a joke.
Loli -
Nightlife in London is absolutely fabulous, there is always an amazing party any day, any time.
What are your plans for 2008?
Loli -
I am currently on the tour in Indonesia, On the return continuing the LoliLand tour around the US and preparing for WMC.

Shoddy
- travel, tour, produce, grow, learn, have fun, & dance.
Where do you see yourselves in 10 years?
Loli -
I see myself doing many projects including the fashion Line, Signature line in cool DJ products, And continuing touring and sharing my energy and music with the world!

Shoddy
- I don't even know where I'll be this afternoon!! But, I do know I'll be happy. Indulged in music one way or another. Loli and I should have our houses in Bel Air by then I think.
1. Meat Katie - Stop the Revolution (The Riot Dolls Rmx)
2. Crookers - The Cat
3. Armand Van Helden - I Want Your Soul (Crookers Crunk Remix)
4. Bass Kleph - Bump Uglies (Dopamine Rmx)
5. Riton - Midnight Swim
6. Format B - Flat Call
7. Green Velvet - La La Land
8. Frankie - Valz (Original Mix)
9. Felipe Avelar - I'm with the DJ (The Riot Dolls Rmx)
10. Santiago and Bushido - Head Trick
11. Rewind - Pleasure Me
12. Queen - We Will Rock You (Unreleased RMX)
13. Justice - D.A.N.C.E. (MSTRKRFT Rmx)
14. Daft Punk - Technologic (Radio Edit)
15. Raul Blanca & Monica - In the Hole (feat. Monica)
16. Human League - The Things That Dreams are Made Of (Tiga Rmx)
17. The Knife - Marble House (Faarsheed's Unreleased Bootlet Rmx)
18. Axwell, Sebastian Ingrosso & Salem Al Fakir - It's True (Dabruck & Klien Rmx)
DJ Loli & DJ Shoddy present: The Riot Dolls Vol.1.mp3
(zshare)
The Riot Dolls Myspace
DJ Loli Myspace
DJ Shoddy Myspace