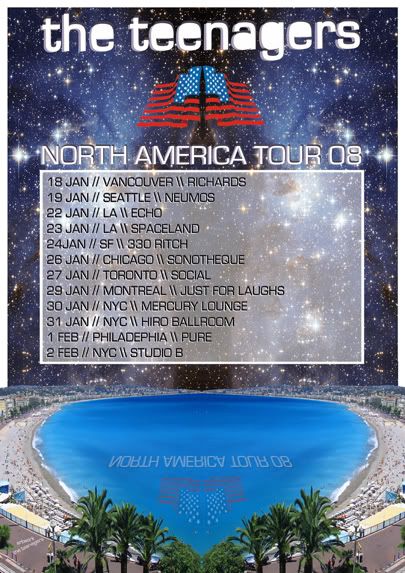 This Friday see's the start of The Teenagers' North American Tour promoting the release of their debut album "Reality Check" which is released
here
today. But, not only will you lucky yanks get the Gallic talent of Michael Szpiner, Dorian Dumont and Quentin Delafon, but also the talents of Antonia Wilson and my good friend Rebecca Francis-Ashton as session drummer and guitarist, respectively.
By the sound of things they seem to be making a more live sounding performance rather than the laptop drum machine performances of the past. So, you'll be the lucky ones to hear it before us Brits when they return to support Justice at the Astoria on Feb 14th.
The Teenagers - 'Reality Check'
01 - Homecoming
02 - Love No
03 - Feeling Better
04 - Starlett Johansson
05 - Streets Of Paris
06 - Make It Happen
07 - Wheel Of Fortune
08 - Fuck Nicole
09 - French Kiss
10 - Sunset Beach
11 - III
12 - End Of The Road
Released digitally in the US today (
Buy Here
)
Available as CD format on Meroc Records & XL Recordings on March 17th.
The Teenagers - Homecoming (Gentelmen Drivers Rave Mix).mp3
(zshare)
The Teenagers Myspace