Jared and Jamila are better known as ADHDJ's and over the past 9 months have already established themselves in the London club scene. Whether it's their infectious indie/electro/rave/mashup Dj sets or the fact they are out classing other Dj's while only at the tender age of 16 is up to you. Either way, with Jared working on material with
SuperSuper
's
Namalee
in a
Uffie
&
Feadz
style duo, 2008 is going to be the year you will know all about ADHDJS.
So, what does ADHDJS stand for?
ADHD stands for Attention Deficit Hyperactivity Disorder, A behavioral condition which we both share. There is an element of mockery and irony which we thought made it a good DJ name.
You are both 16, how long have you guys been djing?
I took an interest a couple of years ago, my older brother used to be a hip hop DJ and he taught me the basic skills of mixing with his vinyls. I then bought my own CD decks which I began practicing on, although I still think that playing vinyl is a far more credible technique. Jamila and I collectively began Djing under ADHDJS in May last year.
Does your age affect where you can play a set?
Its not a major problem in London as club promoters tend to be more lenient. But occasionally there is high security on the door so it's more of an issue. We try to get to the venue before the bouncers are there to set up. We aren't in any rush to play at all the big clubs in London but it's a shame that there isn't a better established underage club scene which would give opportunity to more young artists and Djs.
Do either of you have a residencies elsewhere or play regularly at any other events?
We had a residency at my friends club night called 'Disco Rejects'. This was a small club night for all ages but it stopped after a couple of months. It was pretty hectic and the night was really good so its unfortunate that it ended. I think that it definitely helped us boost our reputation with the underage crowd.
How long have you been producing?
Around a year ago I started messing around with Fruityloops, producing beats for my friends to spit over but recently I've bought proper production software so I can develop my skills in that area.
Do you produce original material as well as remix other artists' tracks?
Remixing other artists tracks is so unoriginal and seems to be what every DJ does, us included. Despite the remixes sounding good, I think for a DJ to gain any credibility they need to produce their own material. I have recently been working with
Namalee
, we have formed a little duo and performed together at the winter offensive festival. Our tunes should be up on our Myspace soon.
Are there any bands or acts that you draw any inspiration from?
Not particularly draw inspiration from, but we like
Sweat X
who are a South African group. Originally coming from South Africa, Im glad that their home grown music scene is opening up. I put DJs and bands in our top friends that we are listening to. I am especially liking the Australian music scene at the moment and am actually currently in Sydney. The DJs here are amazing. I like the
Bang Gang
,
The Presets
and the
Midnight Juggernauts
.
What are your plans for 2008?
In 2008, we hope to play outside of London more often and get some DJ sets in Europe. We have so far been offered sets in Barcelona and Italy. We also hope to complete our GCSES...They of course come before DJing...
What was the best part of 2007?
The best part for us was probably hosting a room at Sports Rave which is a club night where people dress up in sports gear and have a laugh. It was excellent. We got a couple of DJs from Sydney to play and some of
Partyshank
and their friends too. There were trampolines set up and badminton nets. It was all such fun because everyone just wanted to enjoy themselves and not care about their image. It didn't have the problem of pretentiousness that most London clubs have.
What will be your new years resolution?
I'm trying to think of something witty to say but its to early in the morning for me. Probably just to progress in DJing, build up more of a following, start producing some really good material and hopefully start up some under 18 club nights with sick line ups. We shouldn't be deprived just because we are under age!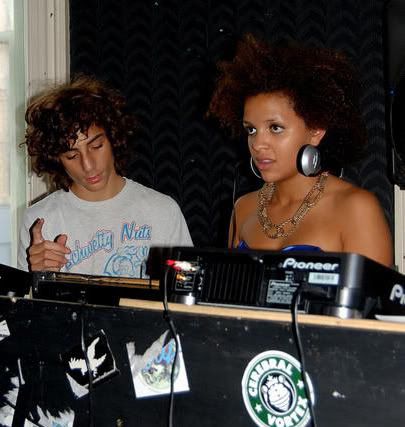 Heres their mixtape which was played at the recent SuperSuper show in London Fashion Week:
ADHDJ's - Get The Fuck Up.mp3
(zshare)
1.Intro
2.Chromeo - Fancy Footwork (Acapella)
3.High Powered Boys - Hoes Get Down (Ultra Tiger Remix)
4.Riot In Belgium - La musique
5.M.I.A. - Boyz (Hot Pink Delorean Remix)
6.Crystal Castles - Alice Practice (Futurecop! Remix)
7.Ludacris vs Surkin (my!gay!husband! REMIX)
8.Dr. Dre - Forgot About Dre (Dj Mighty Mi Tour Dre France Remix)
9.Soulja Boy - Crank Dat (Pop Rawkus Remix)
10.M.I.T.C.H. feat. Uffie & Feadz - Fais Rentrer Les Euros (Unreleased Audioporno Remix)
Bonus Remixes:
ADHDJ's - Super Mario.mp3
(zshare)
ADHDJ's - Jam Your Hype.mp3
(zshare)
ADHDJ's - Nimmo and The Gauntletts Mix.mp3
(zshare)
ADHDJ's - Golden Skans REMIX.mp3
(zshare)
ADHDJ's - Lean Back REMIX.mp3
(zshare)
ADHDJ's Myspace