Some synth, strings and minimal disco sounds from the Jupiter Bananas boys in the US:
Jupiter Bananas - The Night Ripper.mp3
(zshare)
The City of Prague Philharmonic - End Titles (From "Starman")
Ghosthustler - Someone Else's Ride
Charlie - Spacer Woman
Minitel Rose - These girls are dressed to kill
The Outrunners - Cool Feeling
Dw - Boytoy
Nid & Sancy - M.U.S.I.C. (SymbolOne Remix)
When Saints Go Machine - You Should Be Someone Else (Moulinex Remix)
Chromo & Club84 - Crystal
Loose Shus -Taurus
Parallels - Ultralight
Lorn - Control 3
Scotch - Penguin's Invasion
Tally Isham - Virtual Girl
Jupiter Bananas Myspace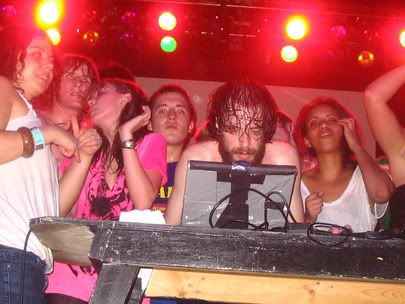 Speaking of Night Ripper, I saw Girl Talk a couple weeks back which was incredible! I've been waiting to get photos from my friends Camera, and completely forgot to mention it. Anyway, yeah the sound performance isn't anything too new, a laptop Dj set comprised of mostly hip hop classics with the odd rock and funk classics, but Gregg Gillis aka Girl Talk is one crazy mother fucker.
He came on stage dressed in jogging gear and by the end of his 2 and a half(ish) hour set he was only covering his modesty with a pair of white Y fronts. The stage was invaded from the start and the one man security team couldn't really do much to stop it, but this didn't bother Gills, he's pretty used to the venue going mental at all of his gigs, even being little known here in the UK there was probably more people on stage than on the dancefloor. I wouldn't be surprised if he made some festival appearances in the UK this summer. Keep an eye out!
The album Night Ripper is out now, check out his myspace for some tracks to download:
Girl Talk Myspace
Also, some bonus beats for your ears:
When Saints Go Machine - Kids On Vacation (Zombie Disco Squad Remix).mp3
(mediafire)
When Saints Go Machine Myspace
Zombie Disco Squad Myspace
Metronomy - Radio Ladio (Mac 3000 remix).mp3
(zshare)
Metronomy Myspace
Mac 3000 Myspace