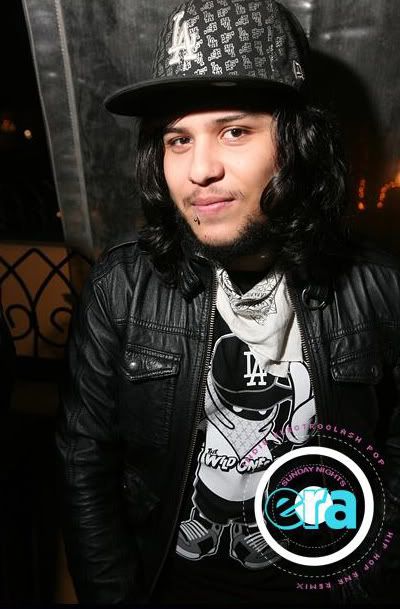 Photo: Era Disco
So how long have you been Djing?
About a year solid now. Producing for 5 or 6 years
Where did your DJ name come from?
I was on a lot of drugs ahahahaha
Do you have any residencies or events you organise or play regularly?
I resident @ club ERA in riverside, CA and once a month for LA's Hi-Fi Noize. This month we had Crystal Castles @ Era & are having Partyshank for their US Debut @ Hi-Fi.
You play mostly in LA and have played a couple of private parties, have you ever had a surreal story of a crazy night out?
I did a backyard party in neighborhood in LA and I was robbed at gunpoint for a mixer. It was cheap, but still very scary to experience a gun at my stomach.
Do you prefer to remix other artists tracks or produce original material?
I love original productions but remixes are so much fun to play around with! They're both essential.
Are there any bands or artists that you draw inspiration from?
I am inspired by Ed Banger Recs, Kitsune, Benny Benassi, Pink floyd, Beastie Boys, NWA & lots of old school Rap/Hip Hop, Soulwax, DatA, & about a million other artists. Far too many to list
Who would you most like to work with on a track and why?
I would love to work with D.I.M, Crookers or the Bloody Beetroots because we all love that dirty ass bass and snapclaps!
What tracks are really doing it for you at the moment?
My secret weapons to gettin the floor moving lately are the Bonde Do Role "Divine Gosa" remixes, Calvin Harris, MSTRKRFT, Crookers, Deadmau5, Ocelot, Villains, Surkin, and of course...Daft Punk. oh, and Shazam! fuckin disco!!!
What was your highlight of 2007?
My highlight of 2007 would have to be the new years eve party. I booked Felix Cartal and MSTRKRFT rolled to the party to hang and have drinks. It was intense. I got fuucked up that night.
What are your plans for 2008?
Plans for 2008 are to tour Europe. Wish me luck!
Expect a full mixtape soon but in the meantime heres a minimix and some remix promo's for ya!:
BUL!M!ATRON! - LA Booty Bass M!N!M!X.mp3
(mediafire)
BUL!M!ATRON! - Paris Hilton (Split Ep W/ Lillica Libertine).mp3
(zshare)
BUL!M!ATRON! - Kelly Clarkson (Split Ep W/ Lillica Libertine).mp3
(zshare)
Sonido Lasser Drakar - Pobre Estupida (BUL!M!X).mp3
(zshare)
D.I.M - Is You (BUL!M!X).mp3
(mediafire)
BUL!M!ATRON! - New Mex!co.mp3
(mediafire)
BUL!M!ATRON! Myspace