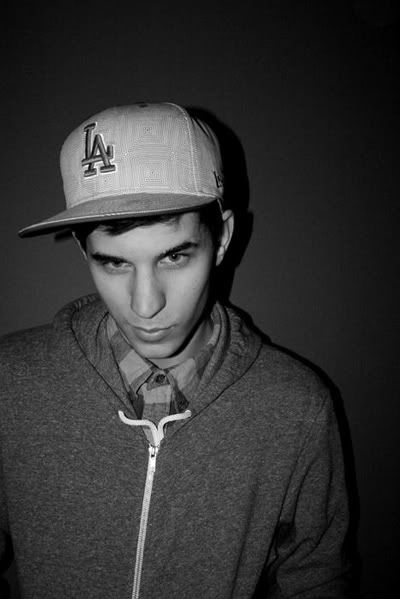 Photo: Max Gleeson
Med Damon, not to be confused with
Matt Damon
(although that is where his Dj alias stemmed from thanks to
Team America
) is part of London's Snap Crackle & Pop collective and has just celebrated the club night's first birthday. Originally from Boudeaux, Med has already made a name for himself in the London club scene Djing for events such as Bugged Out, All You Can Eat, Wet Yourself and Alwayz Frydaze to name a few.

So where did your DJ name come from?
From Team America, Maaaaaaaaaatt Damon = Med Damon. It's very silly but it just caught on..
How long have you been Djing?
About 3 years properly. I was really into my hip hop records when i was little but just kinda stopped. I went back at it when i moved to London, but with electro & Cdjs.
Can you name a record that first sparked your interest in dance music?
Naming one record is hard, but I'd say Daft Punk's Homework maybe.
Where are your originally from and where are you based now?
From France originally, around Bordeaux, based in London now.
You are co-promoter and resident dj for the Snap Crackle & Pop collective, how long have you been running parties and have you organized events before?
I organized a few small parties before, and was resident and helped out with Warboy & K-Tron's club All You Can Eat, but Snap Crackle & Pop is the first one that I've been properly organizing, mainly with Harry (Get Harmed) and some other people. Its been going for more than a year and we're really excited about the future!
Do you have any residencies elsewhere?
Not anymore, only SC&P events.
Are you playing any festivals this summer or plan to take Snap Crackle & Pop to a wider audience?
I'm doing the 3 dates of the Dot to Dot festival, Newcastle, Brighton & London. The 1234 Shoreditch one, and I should be doing a couple in Sao Paulo in Brazil in May too which is really exciting!
Which is your favorite club night/venue to play and why?
I don't really know about London, It's hard to say, theres just so much going on. I really love playing abroad though, came back from Milan not long ago, played Bugged Out there and it was real blast!
Do you produce or remix your own tracks?
Not yet, well I'm working on it but I'm waiting to be 100% happy with it before talking about or putting it out.
Where do you see yourself in 10 years time?
Wow, no idea. Somewhere sunny maybe?
What are your plans for 2008?
A lot! Loads of good stuff is coming up with Snap crackle and pop! We're having our summer party on the 5th of June with The Bloody Beetroots and that should be amazing! A lot more coming up but we cant announce it yet! stay tuned!
Photo: Billa


Check out Med's mixtape he made with
Player Player
for Snap, Crackle & Pop's 1st birthday:
Med Damon & Player Player - Double Player Mixtape.mp3
(zshare)
01. James Brown - its a mans mans mans world
02. Andy George - big dipper (Hijack remix)
03. Zombie Disco Squad - straight boy
04. JakZ - cutie pie
05. Soul Of Man - Scatterbox (Mowgli remix)
06. Stealmyburger - Megablast
07. Player Player - Teach these cats re-edit
08. Jack your body do it proper club classic
09. Hithouse - Jack To The Sound Of The Underground Peter Slaghuis mix
10. Duke Dumont - lean bounce
11. A1 Bassline - girl thing
12. Sinden Count of monte crystal - have a good time
13. Crookers - duo semidef
14. The Bloody Beetroots Congorock - Rombo demo
15. Sebastian - H. A. L
16. Example - So Many Roads (Herve Remix)
17. Nifty - im from NY
18. Dusty Kid - the riot
19. Ryksopp - What Else Is There? (Trentemller Remix)
Med Damon Myspace
Snap, Crackle & Pop Myspace