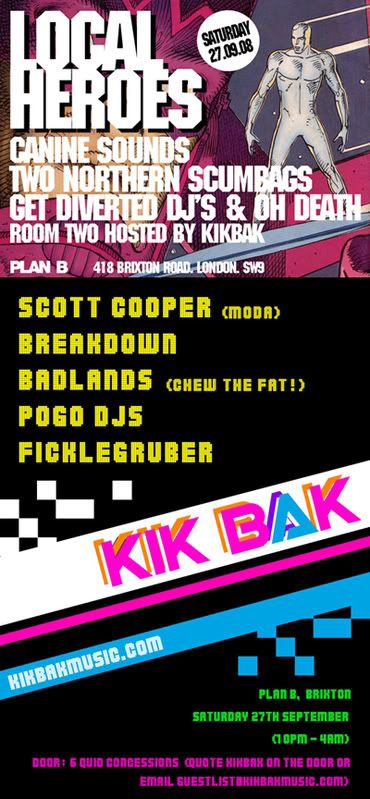 On the 27th of this month I'll be playing at the Local Heroes vs
Kikbak
night at Plan B featuring; Caninesounds, Two Northern Scumbags,
Scott Cooper
,
Badlands
,
Breakdown
, Rob Alldritt, Pogo DJs and Ficklegruber. The main room will be hosted by Local Heroes and the basement by Kikbak. In the meantime get your teeth into this treat from Badlands. Also, head over to
Kikbak
for more info plus access to exclusive downloads, mixes, interviews and give-aways on their new blog.
Badlands September:
'Kik Bak – Don't Take It Lying Down' Mix.mp3
(yousendit)
1. Pirate Robot Midget – 'Hey France' [Big Splash]
2. Gella – 'Chi Kaa Chi Koo (Scott Cooper Remix)' [Fat!]
3. Mighty Fools – 'We Want' [PottyMouth]
4. DJ Rush – 'Mother f**king Bass (Popof Remix)'
5. Maelstrom vs Mc Youthstar – 'The Beat Police (Is This House Mix)' [Katorza]
6. Evil Nine – 'All The Cash (Mumdance Remix)' [Marine Parade]
7. Disco Of Doom – 'The Click (F**cking Zombies Remix)' [Passenger]
8. Merka – 'Back Home (Chewy Chocolate Cookies)' [Fat!]
9. Muse – 'Knights Of Cydonia (Ocelot Remix)'
10. The MPI Project – Here I Am (Twocker Sniper Remix) [Sheer Music]
11. MSTRKRFT – 'Vuvuvu' [Dim Mak]
12. Chemical Brothers – 'Hey Boy Hey Girl (Soulwax Remix)'
13. Suriv – 'Epic Flow (Kieran Brindley and Calvertron Remix)' [Roostar]
Kikbak Blog