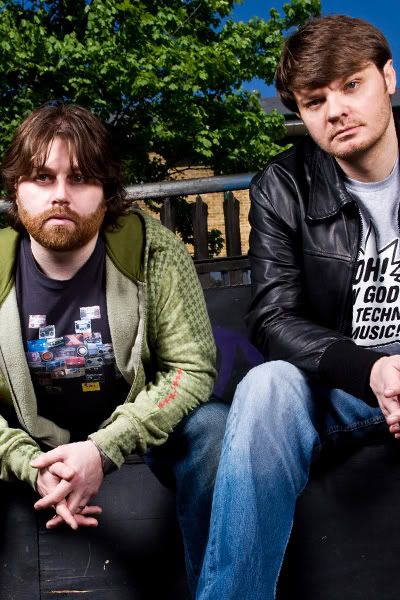 They recently signed to French label Kitsune but, Stewart Rowell and Lewis Gaston better known as Streetlife DJs, already have critical acclaim from the likes of Pete Tong, Sasha, Steve Lawler, Danny Rampling, DJ Magazine and Mixmag as well as completing a mixtape for the legendary Radio 1 Essential Mix.
So how long have you both been Djing?
Stewart:
I started in '86, was madly into hip-hop electro & disco (still am), and had already started collecting vinyl. Bought my first set of technics that year, and that was it…hooked! Louis was a few years later I think on the Djing front, but he got started on production soon after too.
Where did the Streetlife Dj's name come from?
I get asked that a lot, and again it comes from my love of old skool hip-hop & electro, music that came from the street in the late 70s and early 80s. I still take influences from it to this day. And there was a compilation series called Street Sounds in the 80s, founded by a guy called Morgan Khan. These albums really took off and helped push this music and expose it to a wider audience, particularly here in the UK, I have them all! So I guess our name comes from all of that.
Can you name a record that first sparked your interest in dance music?
Chic "Good Times" really sticks out. I was only 7 and I can remember walking round Peckham market with my mum, we heard it playing from the record stall and my mum started dancing me round & round like a lunatic! Such a happy & Up song, I liked it so much she bought me the 7 inch, it was my first record! On a later tip, I'd say hearing Alfredo play Marshall Jefferson's "Move Your Body" and A Guy Called Gerald's "Voodoo Ray" at Amnesia in 1988 were particularly memorable & inspiring. I'd say Louis would probably go for something like "The Real Life" by Corporation Of One or "Strings of Life" by Rhythm Is Rhythm.
You've both been firmly established as individual Dj's and producers for a good few years, what made you decide to start Streetlife Dj's?
Well we had a label from 2000-2003 called POD Recordings, we had 8 or so artists signed and were releasing house records, but on a deep techy progressive tip. We did over 40 releases across the 3 years. Truth is we became quite bored of it all, house music the scene generally, it all got quite stagnant and it didn't excite me anymore. And it was becoming almost impossible to make money out of selling records too. So we closed the label and took a break. It was around then that a new wave of French music was starting to appear, the first Ed Banger & Kitsune records, I started listening to early Daft Punk again, caught Soulwax on XFM one night, went down to Trash a few times….all this really made sense, it was exciting stuff that got the creative juices flowing once again, and ultimately it made me wanna get back to making music and Djing, but on this tip, not as we were doing previously. Louis agreed. Streetlife DJs was born.
How/when did you first begin making music?
In '98. I was working as a label manager at Neo Records (remember Darude, Thrillseekers, Basstoy etc?!?!), its where I learnt how to run a label. But production was something I really wanted to get into, and I was introduced to Louis via a friend, he had a studio set up and was already making dance music. I had the opportunity to do some remixes for Neo so we gave it a shot. That was 10 years ago.
You've got quite a collection of remixes under your belt, were any particularly challenging to complete?
Its funny, the ones you think are gonna be a tall order normally end up being a breeze! Warners asked us to remix the CSS single "Lets Make Love", but they wanted it to sound like a bootleg with the old Tom Tom Club record "Wordy Rappinghood". Problem was, they didn't have any parts for it, so we had to replay any Tom Tom Club parts that we wanted first. It took some doing but ended up coming out really well. The 2 tracks were made for each other, it was a great idea for a mash-up and got loads of DJ support from the likes of Sasha, Pete Tong, Erol, Soulwax, David Guetta and more. We remixed the first Cazals single for Kitsune too. It was a cover of the old Spandau Ballet record "To Cut A Long Story Short". We did a vocal mix first, it was OK, but I was never 100% happy with it. So we decided to chop up some of the grooves from the 1st mix, add some bits, take some bits out, use different fx etc, completely change the vibe of the mix…and the result was the Cut n Run dub, and it was a complete winner. Kitsune loved it, the band loved it, and it was this mix that ended up getting all the support.
Do you prefer to remix other artists tracks or produce original material?
Remixing other people records is great, especially when you get good feedback from the artist, and of course it helps pay the bills! But you cant beat the feeling of playing your own record in a club and seeing people really getting off to it. So id say making original music is best.
Who would you most like to work with on a track and why?
Another popular question, and one that always gets the same response from me! I've got 3 answers for you from 3 different perspectives. Personally, Id really like to work with some of the old skoolers. The original rappers that pioneered that scene. Chuck D, Rakim, Ice-T, Ice Cube & Easy, KRS-One, Masta Ace, The Guru etc…all amazing MCs, but the one that stands out above them for me is Big Daddy Kane. He's the guvnor! Louis has always been into film soundtracks and stuff like that, I know he'd kill to work with someone like John Barry, Ennio Morricone or even Vangelis. And lastly, from a joint perspective, Id love our album to be produced by Nile Rogers & Bernard Edwards aka Chic. Obviously Bernard Edwards passed away a few years ago so its never gonna happen, but those guys are responsible for so many classic dancefloor moments, from Chic & Sister Sledge to Diana Ross and Carly Simon. There has been some fantastic writing & production duo's over the years, and these 2 are definitely at the top end of the tree.
Which is your favorite club night/venue to play and why?
I would have said Space in Ibiza as my fave, and it still is, I played there several times on my own before Streetlife DJs, and we've played several times since. Amazing club, amazing DJs, and amazing cross-section of people that go there to party, you really can't go far wrong by spending a Sunday there in the summer. But there is a new addition to the top spot, in joint 1st place, and for very different reasons. We did a mini tour of Asia couple of months ago with dates in Japan & South Korea. The highlight was without question Womb in Tokyo. Wow! is pretty much all I can say. What a place. Its nothing fancy or particularly spectacular to look at, especially from the outside, you wouldn't even know it was there! Its just a big dark industrial type box in a moody part of town, but the sound system is one of the best I've ever heard, the light show is incredible (the lighting jocks get the same billing as the DJs!)…and the crowds that go there are a DJs dream. They party, and they party hard, and they don't mind letting you know either. I've not seen crowd participation like it for a long long time. The club itself reminds me or Twilo (New York) from a few years ago.
Tell us about Street Beats, is it your own label you've set up?
Yeah, exactly that. We're signed to Kitsune and we'll still be releasing records with them, Street Beats is purely another outlet for our music, and other people music too if we find something we wanna sign. The first release is the "Keep It Street EP", consisting of 2 tracks "Yo! Jay / Bassline Kickin" coming early November.
What was your highlight of 2008 so far?
For me it was the gig at Womb in Tokyo, which is one I'll never forget, and also making our latest single for Kitsune "We Love The Disco Sound" which I'm particularly happy with. The promos are getting some great reactions and I feel we made a big step forward with that record.
What are your plans for 2009, can we expect an album?
Yes! There is an album and live show in the pipeline under the Streetlife Sound system moniker, and I am currently discussing this project with different producers. Watch this space!
Where do you see yourselves in 10 years time?
God, who knows, I'm not sure where I'll be in 10 days time! But we're both getting on a bit, so id like to think I'll be slowing down a bit by then. I'll go for somewhere hot, in Europe with a kicked back way of life. And I expect Louis will end up in California.
Streetlife DJs - Hot Mix 100 Pt8.mp3
(podcast)
01. Streetlife Sessions Intro
02. Streetlife DJs - We Love The Disco Sound (Discopella)
03. Dan Hartman - Vertigo
04. Trio - Da Da Da (Streetlife DJs Re-Edit)
05. Eurythmics - Love Is A Stranger
06. Mr. Oizo - Patrick 122
07. In Flagranti - Business Acumen
08. Sparks - Tryouts For The Human Race
09. Alden Tyrell - Knockers
10. Sylvester - Do U Wanna Funk
11. Justice - DVNO (Surkin)
12. The Jacksons - Shake Your Body (Streetlife DJs Re-Edit)
13. Chromeo - Bonafide Lovin' (Yuksek)
14. Prins Thomas - On Just Foot (Black Devil Disco Club)
15. Cerrone - Supernature
16. Hashim - Al Naafiysh.
17. Farley Jackmaster Funk - Love Cant Turn Around (Boys Noize)
18. Boys Noize - My Head (Para One)
19. Blondie - Atomic (Streetlife DJs Re-Edit)
20. Treasure Fingers - Across The Dancefloor (Alex Metric)
21. The Temptations - Power
22. Man With Guitar - Man Wih Guitar
23. Klatsch - Oh! Boy.
24. The Gossip - Listen Up! (Black Ghosts)
25. Duran Duran - Hungry Like A Wolf (Streetlife DJs Re-Edit)
26. Kavinsky - Wayfarer
27. Glass Candy - Miss Broadway
28. Imagination - Flashback
29. Surkin - Next Of Kin
30. MGMT - Electric Feel (Justice)
31. Pet Shop Boys - West End Girls
32. SymbolOne - Love Juice
33. Elektrons - Get Up! (Greg Wilson's Un-Released Mix)
34. Siriusmo - Diskozinzin
35. Diana Ross - Love Hangover
36. S'Express - Mantra For The State Of Mind
37. The Disco - Stone Fox Chase
38. Stetsasonic - Talkin' All That Jazz (Dimitri from Paris)
39. Klaxons - As Above So Below (Justice)
40. Trio - Da Da Da (Reprise)
41. The Three Degrees - Giving Up Giving In (Streetlife DJs Re-Edit)
Streetlife DJs Myspace
Subscribe to the Streetlife DJs Podcast here