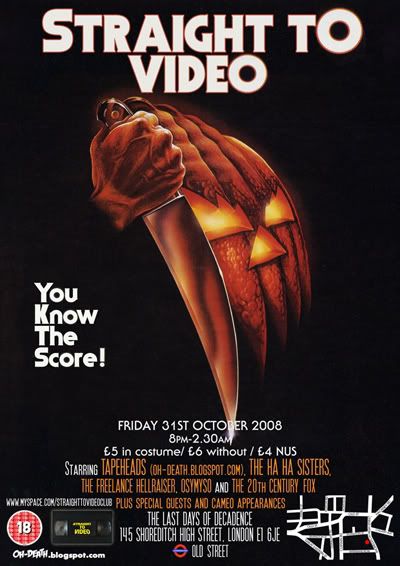 This Friday I'll be digging out my finest Movie Soundtrack's to mix together in a DJ set down at
The Freelance Hellraiser
's new night Straight To Video at The Last Days Of Decadence. I'll be playing under the Tapeheads alias alongside a good friend of mine who I used to share the decks with tearing up house parties back in Uni days.
The night revolves completely around playing tracks from the movies so expect a mash-up of tracks from Hip-Hop to House to New Wave. Kind of 2 Many DJ's, DJ Yoda and DJ Z-Trip all in one. You'll hear anything from Pulp Fiction to Bill and Ted's Excellent Adventure to Top Gun to Beverly Hills Cop to... you get the picture? Getit?.....(sigh). Alongside residents
The Freelance Hellraiser
,
The 20th Century Fox
,
Osymyso
there will also be a set by
The Ha Ha Sisters
, basically get yourself dressed to kill 'cause we're gonna have one hell of a party!
Anyway, Radio 1's
Rob Da Bank
invited
The Freelance Hellraiser
and
Osymyso
onto his show over the weekend to do a special 2 hour Halloween mixtape in preparation for this Friday. You can re-listen to the show again here:
http://www.bbc.co.uk/radio1/robdabank/
For more details and to add yourself to the
Facebook Event click here
.
Straight To Video Myspace
Straight To Video Facebook