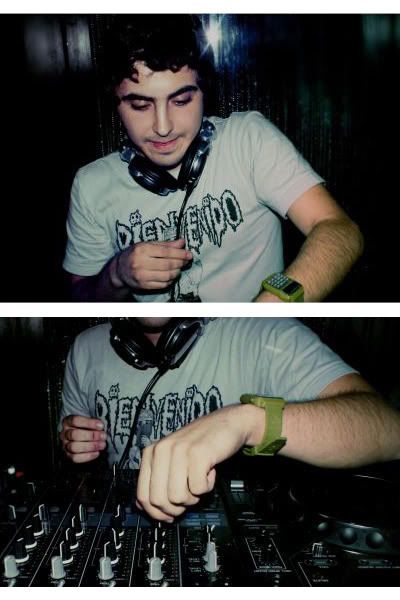 DJ Spin Laden
is one part of Mexican/ Texan Art & Music collective
Cul N Sweet
. As well as flying in the hottest DJ's to play at the hottest night in Texas the boys make some pretty damn good jackin' and fidgity mixtapes.
How long have you been DJing and what brought about your interest in it??
I started mixing about 2 years ago after I heard some productions by Switch and Trevor Loveys, it got me interested in house music. But now I play anything from jackin house, fidget, baltimore club & ghettotech, pretty much anything that will make the kids jack their bodies non stop.
You're also a member of CulNSweet, who are the other members and what do you guys do?
There is 5 members in CulNSweet-
DJ Teenage Wolf
,
Mario Barrio
,
Cory Blaine
,
DJ Orion
and me. We all DJ and organize a monthly party in Austin TX- we bring our favorite DJs from around the globe to come jam with us, the last people we had the privilege to had were: DJ fame, Scott Cooper, Congorock, Juiceboxxx, Dre Skull.
Future plans include Jakz in monterrey, mexico on dec 6. Zombie Disco Squad in Austin, Texas on December 13! and DJ Rampage for early next year! So stay tuned. We also run our blog
tejanobounce.blogspot.com
Where did the name CulNSweet come from and what does it mean?
I think Mario Barrio thought of it while getting blzd one day, it simply means Cul N Sweet :p
Do you have a residency anywhere or play at regular events?
We have a residency at this club called Moods where we DJ every Thursday! plus the CulNSweet party's we try to throw every month, for those we try to find a new location for each party!
Which DJs/acts have you played alongside at previous events?
DJ assault, DJ fame, Congorock, Scott Cooper, Bang Gang DJs, Dre Skull, Juiceboxxx, Yo Majesty and Egyptrixxx are some of them.
Do you produce any material or remix other artist's tracks as well as Dj?
So far I've only made bootlegs of some tracks but I only keep them to myself to play out live. I recently just started producing some bass heavy stuff that I will be posting up soon! So watch outtt :p
What are your top 5 tracks at the moment?
(In no order)
DJ rampage - Fire
Nadastrom - The Way You Move
Trap House - Step Into
Chris James - Torcida Cumbia
Wideboys - Project Bassline
DJ Spin Laden - Da Boom Mixtape.mp3
(zshare)
1. Destroy Disco - Sex On Sax
2. Armand Van Helden - Shake That Ass
3. Boy 8 Bit - Things That Freaks Are Made Of
4. Switch - This Is Sick (Herve Edit)
5. Dj Rampage - Bounce It Girl
6. Green Velvet - Shake N Pop (Dj Sneak Remix)
7. Natty Jack - On Hold
8. Oliver $ - Tupac Robot Club Rock (Spin Laden Edit)
9. Nadastrom - Ritalin
10. Will Bailey & Foamo - Numb Wrist
11. Tom Eq - Cactus Jack
12. Dj Rob 3 - You Bad
13. Dj Rampage - Fire
14. Trap House - Want Me To Stay
15. Top Billin - Big Dancing (Spin Laden Edit)
16. Voodoo Chilli - Street Players
17. Bass Kleph - You Can Do It
18. Claude Von Stroke - Blow The Whistler (Dj Assault Remix - Hookers & Blow Edit)
DJ Spin Laden Myspace
CulNSweet Myspace