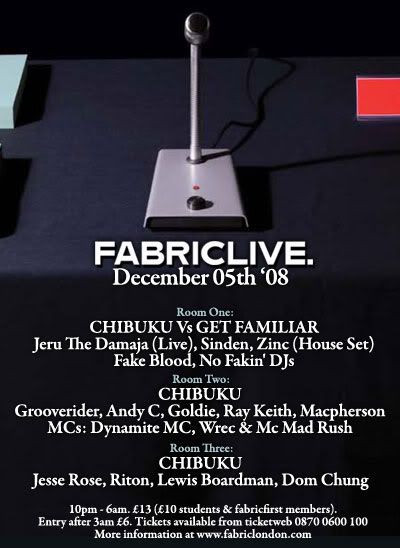 This Friday Get Familiar and
Chibuku
lock horns at FabricLive featuring Chibuku Residents
Lewis Boardman
and
Dom Chung
alongside
Jesse Rose
and
Riton
. To celebrate the evening Lewis and Dom have passed on an exclusive mix for FabricLive that was recorded back in Sept/ Oct.

Lewis Boardman & Dom Chung - Fabric Mix.mp3
1.Audio Soul Project - Community 07 (Peace Division remix)
2.Dj Koze - I want to sleep
3.Loco Dice - Pimp Jackson is talkin now
4.Nick Curly - Happy 5
5.Sis - Standing
6.Dimitri Andreas – Run and Hide (Guido Schneider remix)
7.Kenlou – What a Sensation
8.Mountain People – Mountain 002
9.The Mole – Knock twice
10.Argy – cantstandlovegetaway
11.Anja Schneider – Belize
Be sure to check out
Zodiac Cartel
's latest mixtape and also his awesome remix for Coco Machete: Fukk Off - Rave is King in the Soundcloud player below.

Zodiac Cartel Mixtape (Dec '08).mp3
(Rapidshare)
01 Zodiac Cartel - Klappyn
02 FCB Vs Hijack - Modern Party People Mashup
03 DJ Fame - For The People (Santiago & Bushido Mix)
04 Christian Hoff - Jive Bomb
05 Death Kit - Echoes In My Head (Zodiac Cartel Mix)
06A Rainer Weichold - Bamboo (Format B Mix) /
06B Foamo - Moving It Over Here (Stupid Fresh Mix)
07 Christian Smith & John Selway - Updraft
08 Idiotproof - Gorilla
09 Troyden - Flowers (Santiago & Bushido Mix)
10 Uberzone & Lee Coombs - Right Now
11 Fukk Off - Rave is King (Zodiac Cartel Mix)
12 Various - The Magik Blood Mashup
13 Zodiac Cartel - Mojo Filter
14 Groove Allegiance - Ramp It Up (Hijack Mix)
15 Moston & Malente - Fucked Up (Stupid Fresh Mix)
Bonus:
Something a bit different to the above, another fine mixtape from
DJ Smutlee
featuring the finest Dancehall and House around at the moment.
Dj Smutlee - Dancehall/Funky Mixtape.mp3
01-Busy Signal - Grades
02-Busy Signal - Nah Help You
03-Kanye West - Love Lockdown
04-Movado - Chiney K (Chiney K Riddim)
05-Elephant Man - Shake Up Yuh Booty (Chiney K Riddim)
06-Elephant Man & Ding Dong - Dip Again (Day Rave Riddim)
07-Tony Matterhorn - Never Stop (Day Rave Riddim)
08-Busy Signal - Tic Tic Toc
09-Elephant Man - Dancing Ring (Round Of Applause Riddim)
10-Busy Signal - Whine Up (Round Of Applause Riddim)
11-Mr Vegas Ft. Maestro - Round Of Applause (Round Of Applause Riddim)
12-Sole Fusion - Bass Tone
13-Busy Signal - Small Strap (Smutlee House Edit)
14-Sticky - Golly Gosh
15-Fuzzy Logik - Twiss
16-Swift Jay - Toppa
17-Roska - Pyramids / Elephantman - Crazy Hype (Smutlee Blend)
18-Fingaprint - Untitled
19-Mujava - Township Funk
20-Elephant Man - Hot Wuk Dem Want (Sinka Riddim)
21-Vybz Kartel - Live Some Wey (Sink Riddim)
22-Hardhouse Banton - Sirens
23-Boy Better Know - Machines
24-Chocolate Puma - Always & Forever / Busy Signal - Gyal Dem Chune (Smutlee
Blend)
25-Donae'o - African Warrior (Dub)
26-Sizzla & Beenie Man - Gimmie Everyday (Equator Riddim)
27-Erup - Roll Out (Equator Riddim)
28-Doctor & Davinche - Gotta Man