at Wednesday, January 30, 2008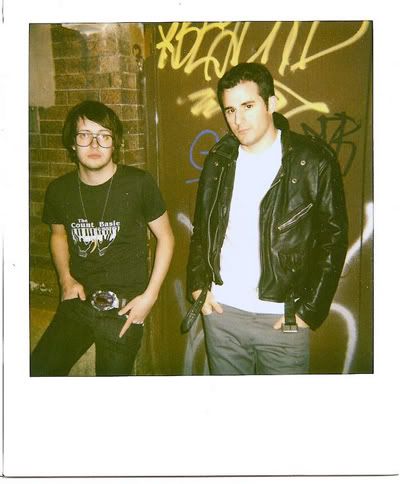 Their name was inspired by psychedelic drugs and anti-drug literature from High School which, obviously proved ineffective as it was a dodgy Acid trip that lead them onto the path they're on today. Making head banging synthy electro-rave tunes and Dj sets to tear up your dancefloor with brutal force. Meet Philadelphia's Designer Drugs.
So how long have you been Djing?
Michael - since I was 16, my friend Ray Martinez taught me how, he had a pair of 1200's so I pretty much spent everyday of my high school life chilling at his house mixing records. We had a nice little crew of people that would party there almost every night and we would take turns Djing for hours, everyday, all day. We started doing underground/illegal parties and raves and I was playing out before I even had my own turntables. Theo actually threw a party that was shutdown by the DEA when he was 16. Haha, Those were the days...
Where did your DJ name come from?
When I was in High School I was fascinated with psychedelic drugs and altering consciousness so I would read books on drugs at the high school library. I thought the term Designer Drugs sounded really cool but it wasn't until 2007 that I started the Designer Drugs Project. So I guess I want to thank my high school library for all the entertaining anti-drugs material.
Can you name a record that first sparked your interest in dance music?
Yeah, the Chemical Brothers - Block Rocking Beats. Its so solid, the "dig your own hole" album still impresses me to this day. Also the album that REALLY made me want to produce was
- Grooverider - Mysteries of Funk. I was on this REALLY CRAZY acid trip and thought it was the end of me. I put on that record and I knew exactly what I was going to spend the rest of my life doing. It was some really deep shit that changed my life/saved my life.
Do you have any residencies or events you organise or play regularly?
Yeah JHN RDN, CLUB LYFESTYLE and myself are doing an event called LIVE FOREVER. I'm really happy with it, we have been getting a lot of positive feedback and packing the venue. As long as people are having fun I'm happy, thats our main concern. We want to do something to create an experience. There are so many parties that are great but its just a club and djs or bands. With LIVE FOREVER we are trying to entertain more in different directions. The first party we decorated the place to look like a jungle, and gave out masks and painted peoples faces. The last party we counted down at midnight and celebrated 3008, CluB Lyfestile did a Dance Performance @ Midnight and we handed out glow in the dark glasses and tiaras that said 3008, decorated the place to look like the future and painted peoples faces. We really want people to walk into the party and say "what the fuck is going on here?"
How/when did you first begin making music ?
I first met Theo in 97/98 and he had this HUGE sound system in his room. I seriously have played at clubs with smaller PA's. He had a few synths too and we would party there and try to make music. The funny thing was he would turn it WAY UP at 4am and his parents and sibling never said anything. To this day I have no idea why no one came to his room screaming at us to turn it down.
Do you prefer to remix other artists tracks or produce original material?
They are both fun. Honestly, I prefer to produce original material but remixes are great for exposure and they are really easy to do... plus there is not as much artistic stress when you are doing a remix because its not your material. I'm a lot more picky about the musical aesthetic of our original material which we are working on now. We are aiming to do a LP this year and while we work on that we are doing remixes to stay fresh have something to give out to the djs.
Are there any bands or artists that you draw inspiration from?
I never really sit down and try to get inspired to make music. If I have free time I just write. I guess I'm inspired by all of my life experiences day to day.
Who would you most like to work with on a track and why?
The Klaxons probably, they are my favorite contemporary artists. I REALLY like their chord progressions, melodies and arrangements. I'm curious what procedure they use to create.
I would also love to work with Kevin Shields from My bloody valentine... I think he may be my favorite artist of all time.
Where do you see yourselves in 10 years time?
Making Justin Timberlake's comeback album. Haha. I'm intrigued with pop music and I think it would be a nice challenge although the medium for music may be so different in ten years that definitively pop music may not exist.
What was your highlight of 2007?
The Designer Drugs project itself was the highlight of 2007 (I think we started it in 07?). I spent most of 2006 building a recording studio with my friend Tom Kee and during that time all I wanted to do was write music but I couldn't because we were doing construction almost non stop. Now that its finished I'm just happy to be making music people enjoy.
What are your plans for 2008?
We plan on doing a few more remixes while we work on an LP. I'm also planning on taking the LIVE FOREVER party elsewhere. I'm setting up a monthly in MIAMI and am talking to people elsewhere so we'll see what happens.
I'm in the process of moving to New York and setting up shows in the states and internationally.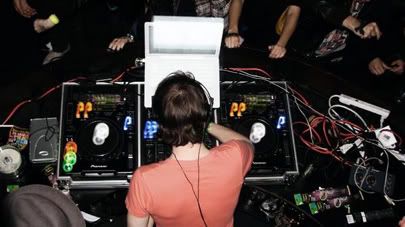 Designer Drugs - DATAMIX01.mp3
(zshare)
1. Boys Noize - Don't Believe the Hype (Surkin RMX 1)
2. Simian Mobile Disco - It the Beat
3. ??? - ???
4. Does it Offend You Yeah - We Are Rockstars
5. Justice - Phantom
6. Boys Noize - Feel Good (TV OFF)
7. Klaxons - Magick (Simian Mobile Disco RMX)
8. Prinz and Wallus - Musicgeschichte (Dennis Hurwitz RMX)
9. The Sounds - Tony the Beat
Designer Drugs - DATAMIX02.mp3
(zshare)
1.Throw It On Me - Timbaland (Bloody Beetroots REMIX)
2.D.A.N.C.E. - Justice (MSTRKRFT REMIX)
3.Doomed Now - Does It Offend You, Yeah?
4.Digitalism in Ciaro - Digitalism
5.Cream - Federico Franchi
6.Come to Me - Adam K
7.Bring It On - Goose (JFK of MSTRKRFT REMIX)
8.The Creeps - The Freaks (Vandalism REMIX)
9.Playmate - Armand Van Helden (Jesse Rose REMIX)
10.Black Gloves - Goose (Bloody Beetroots REMIX)
11.& Down - Boyz Noise
12.Fun Punch - Bagraiders (White Noise REMIX)
13.Jique - Brazilian Girls (MSTRKRFT REMIX)
14.I Want Your Soul - Armand Van Helden
15.Fuck Yeah - Designer Drugs (double drop edit)
16.She's My Man - Scissor Sisters (Goose REMIX edit)
17.Sex Up My Brain - Missouri Phoenix (Designer Drugs REMIX)
18.1234 - Feist (Van She Tech REMIX)
Designer Drugs Myspace
Labels: Designer Drugs, Hail Social, Mixtape, thieves like us
9 comments