Claire Morris
Rory Lyons & Will Graney, are Cassette Jam. Since winning the 'Cream International Search for a DJ Competition 2006' the boys have maintained residencies at the UK's and Ibiza's notorious Cream & The Dirty Disco Clubs as well as playing Russia, Malawi, Belgium, Latvia to name a few. They are currently working up some serious studio time producing their debut album but still stepping out to rock dancefloors worldwide.
So how long have you been Djing?
Rory -
Ive been DJing since I was 13 (Fuck thats 10 years!).
Will -
Had my own decks since I was 17, so 10 years.
Where did your DJ name come from?
Rory -
Will came up with the name, I was trying to call us the five arsed butt monkeys!
Will -
The idea of swapping mixtapes with your mates really. Seemed to suit what we trying to aim for when we started out together.
Can you name a record that first sparked your interest in dance music?
Rory -
Prince 1999, that was my first 12", I used to go nuts when that was on - My parents owned a second hand record shop throughout my child hood, so I had unlimited access to music, and it played a major part in my life.
Will -
Don't think I could limit it to one record really. My dad used to be a DJ when I was a kid, so I was always surrounded by all kinds of music.
Do you have any residencies or events you organise or play regularly?
Rory -
Ibiza Rocks, Cream Ibiza, Cream And The Dirty Disco
Which is your favorite club night/venue?
Rory -
Amnesia in Ibiza is nuts, we are residents on the Terrace (which holds around 3000) - We always play last set and the place goes off - On our debut there we finished with Queen - Dont Stop Me know, was hilarious...
Will -
Amnesia was amazing last summer. I always loved playing The Brothel when Dirty Disco was at The Northern Light too.
When did you first begin making music?
Rory -
About two years ago, just starting to bootlegs and re edits to make our sets a bit different and has just been a natural progression since then.
Will -
About two years ago, just starting to bootlegs and re edits to make our sets a bit different and has just been a natural progression since then.
Your debut LP is soon to be released, what can we expect on it?
Rory -
Around May - We are releasing it on a label I am starting up now. We are commissioning all the remixes now, and working with a whole host of massive names, is really exciting!! Watch this space.
Will -
Wait & see.....
Do you prefer to remix other artists tracks or produce original material?
Rory -
Original all the way - Remixes are pretty easy, you can knock them out in a day, there is no better feeling than doing something from start to finish, then seeing people go nuts to it in a club.
Will -
I think you get more satisfaction out of creating something yourself from scratch.
Who would you most like to work with on a track and why?
Rory -
Got to be Prince. Seen his last ever gig in London last year, he blew me away.
Will -
James Murphy, just to see how he works, or Karen O - amazing vocals. Or Girls Aloud.... say no more.
Where do you see yourselves in 10 years time?
Rory -
My Dream is to be engineering stuff for other Artists - Hopefully we will keep going from strength to strength and keep building up the studio.
Will -
Making noise & having lots of dogs!
What was your highlight of 2007?
Rory -
Ibiza. We started our residencies for Ibiza Rocks and Cream, and they went better than we could have ever expected.
Will -
Definitely the experiences in Ibiza last summer
What are your plans for 2008?
Rory -
Its all about the studio this year, and starting up our label. I set out a lot of goals and targets at the start of 2008, so hopefully can achieve all of them. They are all on track.
Will -
Getting more of the production side nailed on & attempting to get out of Europe a bit more.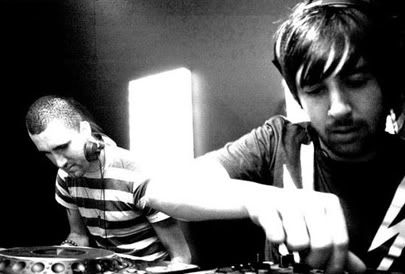 Mark Sayer
Check out their mixtape made on 2x DJM 800's and 5 CDJ's!:
Cassette Jam: Pop 'N Lock Fools.mp3
(direct)
1/ Intro
2/ Bad Boys For Life
Song for Shelter (a cappella)
3/ Sebastian - Dolami
Drugs in My Body (a cappella)
4/ The Beetles - Why Dont we do it in the Road
5/ Jackson and his.... Arpeggio
6/ ODB - Shimmy Shimmy Ya
7/ Daft Punk - Brainwasher
8/ M.I.T.C.H. Feat Uffie (Audion Remix)
9/ Das Pop - Fool for Love (sebastian Remix)
10/ Crookers - Love to Edit
11/ Queens of The Stonage - First it Giveth
Dizzee Rascal - Sirens (a cappella)
12/ Leftfield - phat Planet
13/Primary 1 - Hold Me Down (Yuksek Rmx)
14/ Does it Offend You Yeah - Make Out
15/ Benjamin Thieves - Texas (Sebastian Remix)
Chemical Brothers - Salmon Dance (a cappella)
16/ Hadouken - Tunning in (Re-Rub)
17/ Hot Chip - Ready for the Floor (Soulwax Dub)
18/ Laidback Luke - We Rock Da House
19/ Kris Menace - Steamroller
20/ Cassette Jam - Retox
21/ Tiga - Move my Body (Boys Noize Remix)
22/ Primal Scream V Chem - Dont Fight Control (Erol Booty)
23/ Vitalic - Poney E.P.
24/ Klaxons - Not Over Yet
25/ James Brown - Sex machine
26/ Soulwax - Krack
27/ The Avalanches - Frontier Psychiatrist
28/ Dahlback & Dahlback - Forsberg Loves the Acid
29/ Tone Le roc - Funky Cold Medina
30/ Cassette Jam - Block Rocking Club Foot
31/ Boys Noize - & Down
32/ Justice - DVNO (LA Riots Remix)
33/ Daft Punk - Around the World (Gameboy Remix)
33/ Daft Punk - Around the World
34/ Whitey - A walk in the Dark
35/ Cajun - Dance not Dance (Digitalism Remix)
36/ Duke Dumont - Lean & Bounce
37/ DJ Shadow - Organ Donor
38/ Adam Sky -
39/ Green Velvet - shake & pop
40/ The Presets - My people (DIM Rmx)
41/ Killing in the Name of (Sebastian Rmx)
42/The Sub's - Fuck that Shit
43/ Iggy Pop & The Stooges - Wanna be your dog
44/ The Prodigy - smack my Bitch Up
45/ Sweet light - Abusator
The Whip - Trash (a cappella)
46/The Eagles Of Death Metal - Cherry Cola
Bonus Tracks:
Jon Carter: The Rabbit (Cassette Jam Remix)
(
zshare
)
Cassette Jam: Don't Loose Control.mp3
(direct)
Cassette Jam: Untitled.mp3
(direct)
The Sunshine Underground: In Your Place (Rory's Cassette Jam Mix).mp3
(direct)
Also stop by their website to download more mixtapes and subscribe to their podcast.
Cassette Jam Website
Cassette Jam Myspace
Cassette Jam Productions Myspace